SISTER CITY SINCE 1964: WONJU (Kangwon-Do), KOREA
Roanoke and Wonju share many differences, but also share many similarities, highlighting their sister city relationship. In a nation with 5,000+ years of recorded history, Wonju City records it first beginnings in 469 A.D., acquiring its name in 940 A.D. from King T'aejo. Now a dynamic modern city, Wonju is a centrally located industrial city proud of its pollution free environment in picturesque, mountainous Kangwon Province. It has an airport and is an important railroad center along South Korea's "Central Line." It offers wide express bus services as well.
Devastation following the Korean War remains only in the memory of its senior citizens. Tremendous restoration took place after the war. Today Wonju is studded with 15-20 story hi-rise apartment buildings, a tourist hotel, four industrial parks, two major TV studios, a large civic art gallery, a 10,000-seat Olympic gymnasium and an outdoor stadium seating 20,000. It is the gateway city to Korea's coal, tungsten and cement resources. Industry includes auto parts, transformers, battery manufacture, cutlery, copper wire, electronics, sporting goods, office equipment, plastics, ceramics, bio-med research & products, insulation and floor tiles, cosmetics, processed/ canned foods, and musical instruments, i.e. violins, violas, cellos, basses. Annual cultural celebrations including the Chiak, International Walking and Tattoo Festivals (military bands) are all gala events. Resorts include: four golf courses, three ski, swimming, a "Dream Land Amusement Park."
Higher education is given top priority in Wonju, which hosts Halla University, Sangji University/ Youngseo College, and Wonju-Yonsei University. Health services are provided by Wonju Christian Hospital & Medical Center [1000 beds], Wonju-Yonsei Medical & Nursing Schools, a Provincial Hospital and numerous private clinics. Wonju is proud of its high medical standards and its medical exchanges with Virginia Tech Carilion School of Medicine and Radford University.
Twinned in 1964, Wonju and Roanoke participate in  cultural, educational, medical and artistic exchanges. A dynamic modern city located 87 miles S.E. of Seoul, Wonju has a population of over 350,000.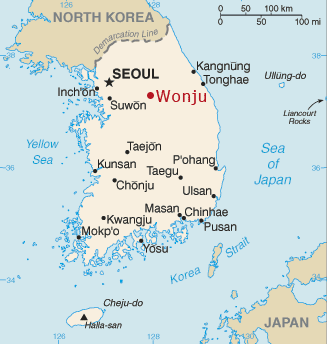 January 15 @ 8:00 am
-
February 9 @ 5:00 pm
January 18 @ 5:30 pm
-
7:30 pm
January 20 @ 12:00 pm
-
2:00 pm
January 23 @ 5:30 pm
-
7:30 pm
January 25 @ 5:30 pm
-
7:30 pm
January 27 @ 12:00 pm
-
2:00 pm
February 1 @ 5:30 pm
-
7:30 pm
February 3 @ 11:00 am
-
3:00 pm
February 3 @ 12:00 pm
-
2:00 pm
February 8 @ 5:30 pm
-
7:30 pm