SISTER CITY SINCE 1996: LIJIANG(Yunnan Province), China
Lijiang, literally "Beautiful River,", lies near the borders of Sichuan Province, Tibet and Burma. Nestled in a high valley of the Hengduan Mountains of northwest Yunnan Province, it is in the legendary area called "Shangri-la" or "Lost Horizon."
Lijiang is proud of its exquisite scenery. Notable sites are:
Beautiful snow-capped Jade Dragon Mountain (18,360 ft.) home of medicinal "Snow tea" and many herbs.
Magnificent Tiger Leaping Gorge (11,700) ft.), the deepest gorge in the world.
Origin and "first-turn" of China's main artery, the wide, flowing Yangtse River.
Ancient Dayan Town, laced with crystal clear waterways, recognized as the "Venice of the Orient." It takes pride in preserving old architecture and cobble stone streets. Thriving markets offer bargains galore in art, jewelry, textiles, wood, stone and ceramic art forms.
The 500-year-old Camellia Tree of 10,000 blossoms, as large as 9", blossoming spectacularly for 100 days!
Gorgeous Lugu Lake, home of a rare true matriarchal society, one of the few remaining in the world.
Beautiful scenic, mysterious Dongba Murals, ancient Naxi Music, and Yo Festivals combined with a dozen other unique ethnic cultures earn Lijiang an UNESCO designation as a cultural melting pot or World Heritage City.
Lijiang and Yunnan Province are the horticulture center of China, making it a gardener's dream. A new airport, tourist hotel and warm friendly people welcome searching adventurers from around the world.
[U.S. connection with Yunnan? The famous WWII "Flying Tigers" were stationed in Kunming and Lijiang; Virginians learned to process cured ham from Yunnan; and China's first tobacco plants were transplanted in Yunnan from Virginia!]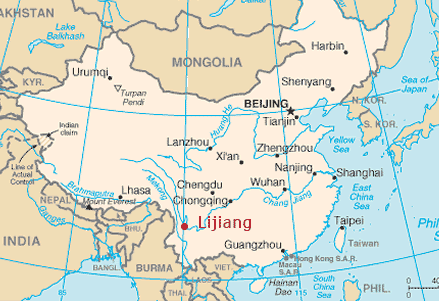 February 3 @ 11:00 am
-
3:00 pm