SISTER CITY SINCE 1992: PSKOV (Pskov Oblast), RUSSIA
The Roanoke/Pskov and Pskov Oblast' Sister City Organization for over a decade has been involved in numerous humanitarian, educational and medical initiatives. Established in October of 1992 and led by Natasha Petersen and later Sasha Saari, the Roanoke side of the Sister city partnership has furnished medical supplies and equipment for hospitals, orphanages and hospice in Pskov. Under our leadership an agreement between Ferrum College and the Pskov Pedagogical Institute (now Pskov State University) was established in 1993. To date numerous Russian students have received full scholarships for a semester of study at Ferrum College, while Ferrum students have worked, studied and interned in Pskov. During the years of our partnership groups from Roanoke have visited Pskov, and the Roanoke side has been delighted to receive visitors from Pskov to the Star City.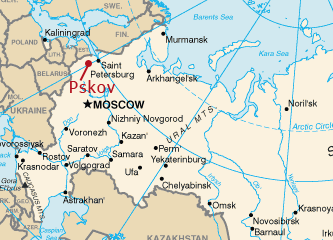 There are no upcoming events at this time.