SISTER CITY SINCE 1995: Florianòpolis (Santa Catarina), Brazil
Florianópolis, the capital of the State of Santa Catarina, is located on the Atlantic Coast of southern Brazil. The city is composed of one main island, a small section on the mainland and several small islands. Florianópolis is recognized by some to be one of the most dynamic cities in the world. More than 400,000 people live in the city and 800,000 in the metropolitan area.
The region was originally settled by Azorean Portuguese and later by Italian and German immigrants. The strong influence of Portuguese and Azorean colonizers can be seen in the architecture, culinary arts and in the cultural traditions. Both cosmopolitan and provincial, Florianópolis is a progressive city and offers its citizens fine universities, shopping malls, an international airport, over four hundred hotels, a cultural center and a symphony orchestra. The uncommon beauty of over 40 beaches and the Atlantic Coastal Forest make Florianópolis a major tourist destination.
Through fund-raising efforts of the Roanoke/Florianópolis Sister City Committee, it has been possible to provide support for Love's Little Nest, an orphanage/ school for children living with HIV/AIDS and children whose parents have died of the disease.
Since our sister city relationship began in 1995, several reciprocal visits have occurred to strengthen our friendship. Cultural exchanges have included the arts, concert performances, economic development, social services and university linkages. Roanoke is fortunate to have this relationship with the gracious people of Florianópolis.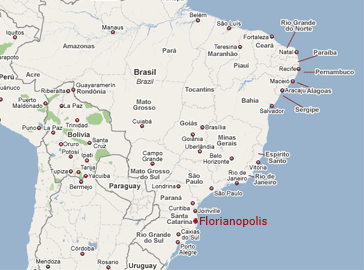 UPCOMING FLORIANÓPOLIS EVENTS
There are no upcoming events at this time.