Since its inception, the Sister Cities International network has played a key role in establishing and strengthening important global relationships. It was created at President Eisenhower's 1956 White House summit on citizen diplomacy, where he envisioned a network that would be a champion for peace and prosperity by fostering bonds among people from different communities around the world. By forming these relationships, President Eisenhower reasoned that people from different cultures could understand, appreciate and celebrate their differences while building partnerships that would lessen the chance of new conflicts.
WHY JOIN ROANOKE VALLEY SISTER CITIES?
Roanoke Valley Sister Cities provides connections to four continents and seven different countries through its artistic, educational, medical, municipal, social, humanitarian and business exchanges. Our most recent exchanges and events include welcoming a guest artist exhibit and a business intern from St-Lô, France; sending a youth delegation and medical students to Wonju, South Korea; hosting a municipal delegation from Lijiang, China; featuring delicious Polish food at an Opole, Poland, booth at the annual Local Colors Festival; aiding a widow and orphans home in Kisumu, Kenya; visiting with municipal and university officials in Pskov, Russia; and providing financial aid to an orphanage for children with AIDS in Florianópolis, Brazil.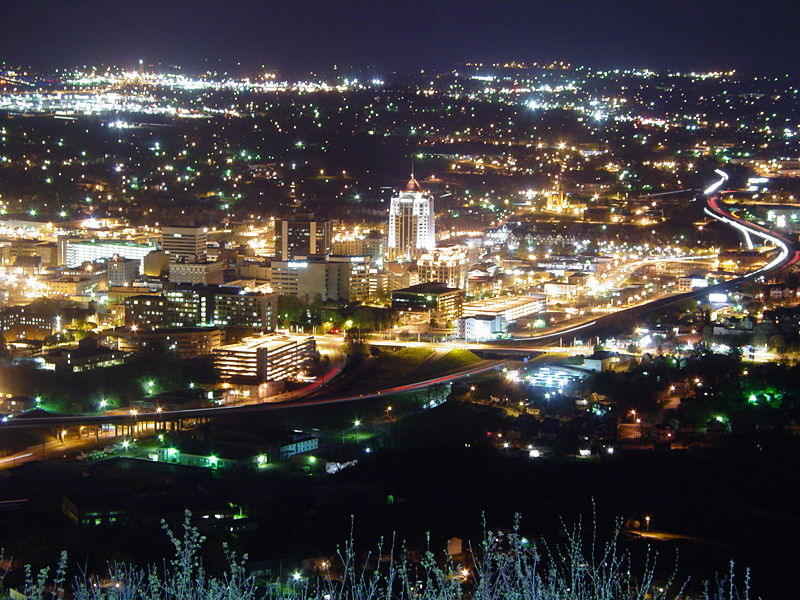 The Roanoke Valley, pictured at night
HOW DOES SISTER CITIES WORK?
Each of our seven Sister Cities committees is as varied as the people who share its activities, limited only by their imaginations and dreams. Our 'umbrella' corporate board, responsible for policy and business matters, includes the chairperson of each Sister City committee, a president, vice president, secretary, treasurer and 3 members at large. Each Sister City committee chooses its own projects and brings them to life. Working cooperatively with Roanoke City & County governments, schools, universities, churches, civic/service clubs and with community festivals (e.g. Local Colors), Roanoke Valley Sister Cities can make a difference. Click here to see our bylaws.